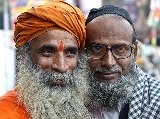 The BJP compromises on needs of the Indian Muslim in order to come to power. The Congress is looking to appease minorities at any cost as long as it stays in power. Such statements have become common occurrences specially after the elevation of the status of Narendra Modi within the BJP. Almost any debate in the country these days seems to be linked back to religion and our two leading political parties. One factor in assessing the attitude of BJP and Congress towards Muslims, is to see the treatment of Muslims within these two parties i.e. the willingness of the parties to allow Muslims to run for office. Both the BJP and Congress are parties that are recognized nationally. Hence it is natural to expect these parties to be representative of every section of the Indian population.
The two most recent major elections have been analyzed below i.e. the Karnataka and Gujarat assembly elections.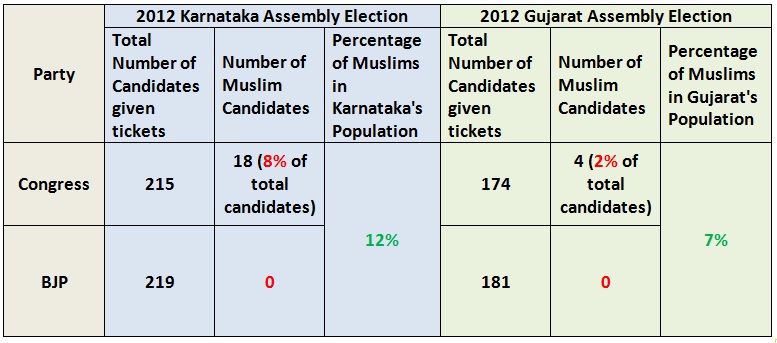 It is apparent from these numbers that Muslims are under-represented in both the BJP and the Congress. However, the fact that BJP did not provide a single Muslim candidate with a party-ticket across these two elections does stand-out. The covert ways in which political parties function, mean that it is extremely difficult to guess the exact reasons for these numbers. But it can be deduced that BJP does not care for any form of tokenism and didn't even bother to include Muslims in its list of potential MLAs. Of late, BJP supporters have been brazen about the party not caring for any sort of appeasement of   minorities. However, there is probably some middle ground between non-appeasement and complete neglect that may be prudent for the party to ponder over. From the Congress' perspective, it is difficult to gauge whether appeasement of any form has been responsible for the shambolic governance of the last few years. But in terms of truly representing Muslims as ticket-holders from the party, the Congress is only marginally ahead of the BJP.
——–

Copyright secured by Digiprove