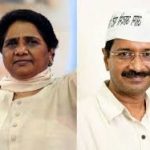 Two of our most prolific leaders from recent times, Behenji Mayawati and Arvind Kejriwal, have decided to have grave concerns regarding the electoral system – one that has allowed them to be Chief Ministers, a combined six times.
In a BSP letter to the Election Commission of India (ECI) on March 11th 2017, National General Secretary Satish Chandra Mishra provided reasons for his parties skepticism about Electronic Voting Machines (EVMs). Most of the reasons raised by Mishra tantamount to – 'we've heard things' and 'someone said'. You can find a copy of the letter here. Below, we have highlighted a couple of excerpts that we found most interesting.

Mishra doesn't elaborate what he means by "so many votes". In reality, there were plenty of votes cast for BSP as well, a total of 1,92,81,352 (almost 2 crores!) across UP during the elections. This is only second to BJP that received around 3.4 crore votes. So if one was to believe Mishra, it is difficult to imagine what kind of sorcery was used by EVMs that they were somehow able to be tampered and yet work for BSP almost 2 crore times (see chart below from the ECI website).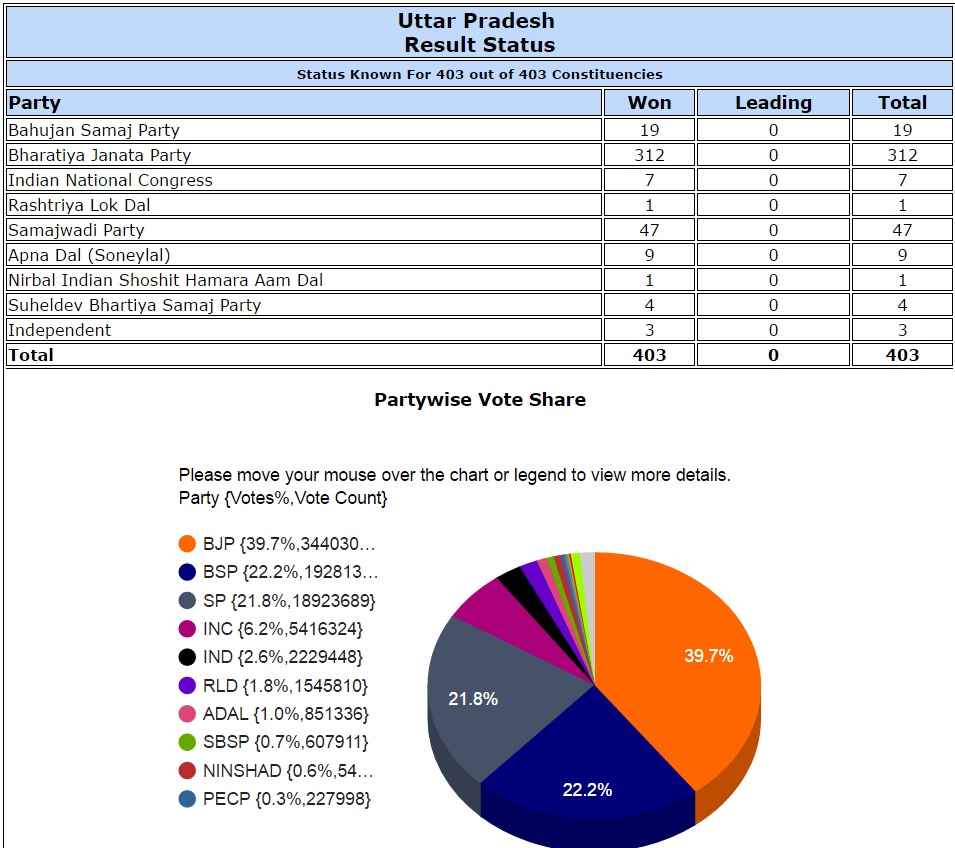 Our electoral system has never functioned based on popular votes. If seats were divided by popular votes, BSP would have won ~89 seats (instead of 19) and BJP would have won ~161 seats (instead of 312). This has always been a reality of our electoral system and was at play even in the 2014 Lok Sabha elections and almost all elections before that.
At another point in the letter, Mishra says: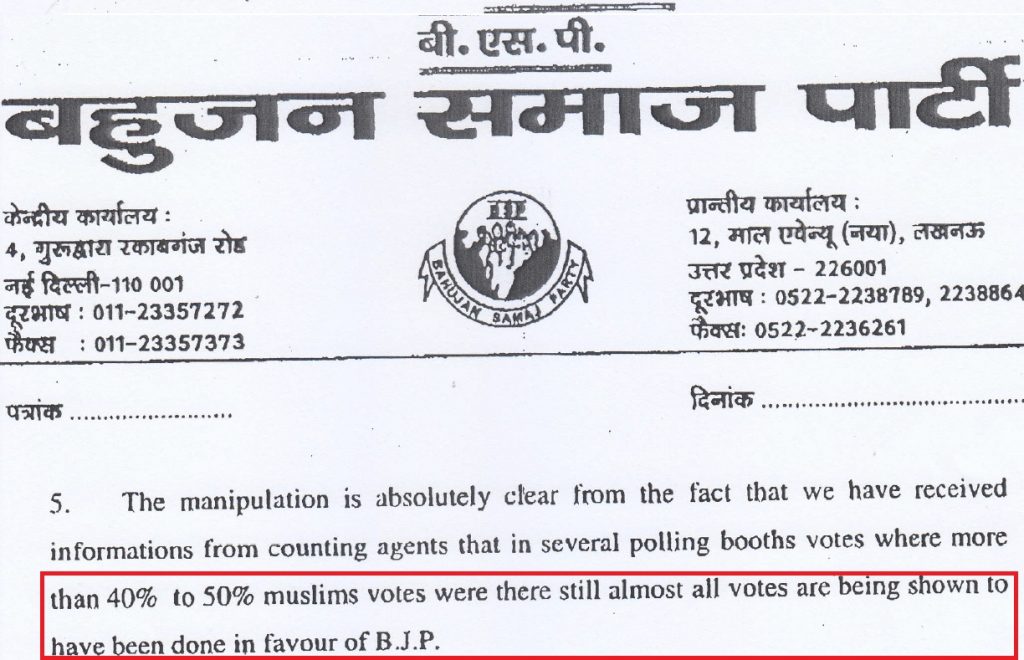 The election commission has cried itself hoarse urging all political parties to refrain from using religion to garner votes. Mishra's statement here is not only tacit admission that his party couldn't care less about the ECI's instructions, but is also an incredibly silly argument to conclude that EVMs could be tampered. It's almost like complaining to your teacher that "I could not have failed this exam because I cheated".
The ECI responded with a very detailed response to BSP that included a brief history of how and why we use EVMs, technical security features that exist and previous judicial challenges to EVMs. The complete response can be read here.
However, the most pertinent part of the response was in the 'procedural security' section. Some of the key points made by the ECI:
Before every election, the EVMs to be used are checked in front of representatives from political parties.
During this checking, control units are sealed using a pink paper that is signed by representatives of political parties.
At least 1000 mock votes are cast by political party representatives on a random selection of EVMs. Representatives of political parties are allowed to randomly pick machines for this purpose. 
Candidates and their representatives are allowed to conduct mock polls on the actual poll day to satisfy themselves.
Candidates and their representatives are allowed to keep a watch on the machines after polling is done. 
Kejriwal is another major leader who is dissatisfied with EVM elections. He wants upcoming municipal elections through ballot papers. The same system that once allowed for booth capturing, high costs and incredible inefficiencies. The ECI is used to election losers questioning EVMs. As per an Indian Express report – From August 3 to 8, 2009, the Commission undertook the extraordinary step of inviting sceptics to demonstrate the alleged fallibility of EVMs, using 100 randomly sourced machines from 10 states. "The outcome of this exercise is that none of the persons, who were given the opportunity, could actually demonstrate any tamperability of the ECI-EVM, in any of the 100 machines put on display. They either failed or chose not to demonstrate". The machines, the EC said, could neither be reprogrammed nor controlled by an external device. "The source code (for the EVM) is so designed that it allows a voter to cast the vote only once. The next vote can be recorded only after the Presiding Officer enables the ballot on the Control Unit. In between the machine becomes dead to any signal from outside (except from the Control Unit)," the 2009 statement said.
The Indian National Congress has also started murmuring about tampered EVMs. Hopefully, for the sake of our political processes, these parties can get their act together and try and focus on why citizens are not voting for them rather than making baseless allegations against the system. We must remember that this is the same system that allowed Mayawati and Kejriwal to rise to political stardom despite them not coming from politically strong backgrounds. 

Copyright secured by Digiprove