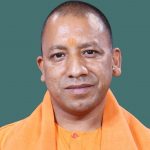 BJP – the party with a difference, has given us another gem. Yogi Adityanath will be the next Chief Minister of Uttar Pradesh. Yogi Adityanath will act as an inspiration for millions of UPites over the next five years as he brings a much needed regressive and narrow minded approach to governance. Here is his incredible resume which touches upon his impressive body of work:
---
Ajay Singh Bisht (aka Yogi Adityanath)
361,Old Gorakhpur,Shri Gorakhnath Mandir,Gorakhpur-273015, Uttar Pradesh
Phone: 9450966551 (M)
[email protected]
Education
1992 – B.Sc. From H. N. Bahiguna Garhwal University, Srinagar, UP
Work Experience
1998 to present – Member of Lok Sabha from Gorakhpur
Social Work
3 pending criminal cases
IPC charges include:

Attempt to murder

(IPC Section-307),

criminal intimidation

(IPC Section-506),

mischief by fire or explosive substance

with intent to cause damage (IPC Section-435),

Injuring or defiling place of worship

with intent to insult the religion of any class (IPC Section-295),

Promoting enmity between different groups on grounds of religion

, race, place of birth, residence, language, etc., and doing acts prejudicial to maintenance of harmony (IPC Section-153A)
Extra curricular activities
October 2005: I led a 'purification drive' in the district of Etah, converting 1,800 Christians to Hinduism.
February 2015: In response to people saying BJP is intolerant, I declared, "we will install Gauri, Ganesh and Nandi in every mosque." In the same year, I sat silently on stage while one of my supporters gave a call to dig up the graves of Muslim women and rape them. The speaker, a member of the Hindu Yuva Vahini – a militant Hindutva organisation founded by me – declared that when I come to power, Muslims would be stripped of the right to vote and treated as "second-class citizens".
---
References
Lok Sabha Bio page
MyNeta.info: Information from 2014 Lok Sabha affidavit submitted to ECI 
Tehelka.com - 'When I Ask Them To Rise And Protect Our Hindu Culture, They Obey Me'
The Wire - Adityanath as UP CM: It's Bait and Switch as BJP Foists Hindutva In Place of Vikas
Zee news: Will install Gauri-Ganesh in every mosque, says Yogi Adityanath

Copyright secured by Digiprove