India's leading rural journalist (and unfortunately one of our only ones), P. Sainath, recently  conducted a 1 hour 35 minute Google Hangout session in which he discussed many facets of India's agrarian crisis. Most of our beloved news channels and newspapers, have little presence in rural India.  Hence the information that we receive regarding the farmer crisis is often about media-friendly spectacles like political visits, clashes with police and farmer protests.  Broadly speaking, Sainath's message is that episodic situations like the strike in Maharashtra, the Tamil Nadu farmers' protest in Delhi and the police firing in Mandsaur, M.P are all manifestations of the crisis and we should not try and understand the farmer crisis purely through  events like these. What we often miss, is the core issues – the reality of farmer lives and the never-ending oppression that they face due to our bizarre governance and incredibly corrupt policy-making. 
Here, we summarize some of the key areas that Sainath discussed and provide some context to why we need to rise up above partisan politics and jingoistic rhetoric, if we truly intend to help our farmers. 
1) All governments, from UPA to NDA, have been equally apathetic & culpable
In terms of economic & agricultural policies there has not been a gigantic difference between UPA and NDA. While the UPA has been in power for longer, our current government is the one we have to look at for accountability regarding what is going on across the country today. From Sharad Pawar presiding over the largest number of farmer suicides recorded to the apathy shown by Devendra Fadnavis and Shivraj Singh Chauhan in dealing with farmers, Sainath observed that there has been no change in the attitude shown by our political class towards farmers. He referenced the way our current government celebrated its agriculture sector achievements on the same day that farmers were killed in Madhya Pradesh.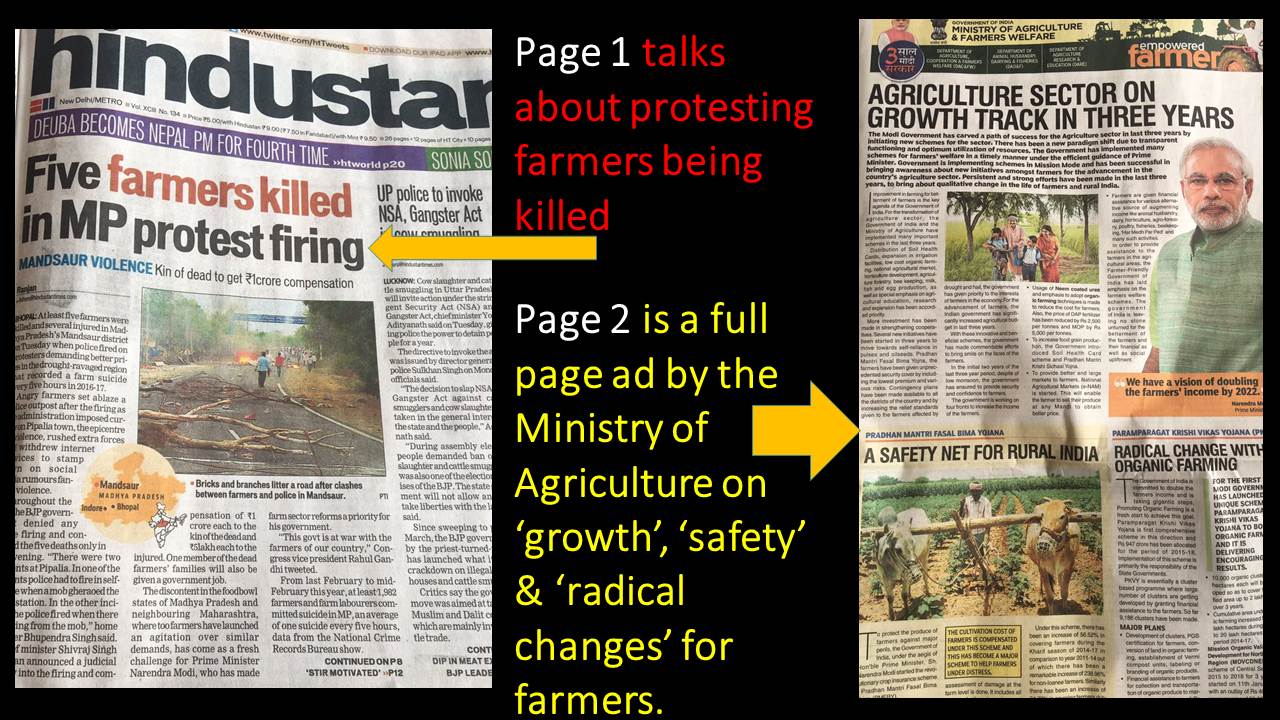 However, the problems have persisted for decades. Here is an old video snippet (WARNING: explicit language) in which Sainath speaks about what India was doing to farmers in the 90s.
There does not seem to have been any significant change in the issues being faced by farmers – including the commodification of farmers, lack of social & economic justice for food growers and lack of alternative avenues of work for farmers.
2) Loan waivers provide relief, 

not

solutions to the crisis
The recent agitations in Maharashtra, have been in areas which have generally been prosperous – like Nashik and Western Maharashtra. After refusing to speak to farmers for a considerable amount of time, Chief Minister Devendra Fadnavis finally caved in and setup a group of ministers to speak to the farmers. Certain measures have been agreed upon to help the farmers:
~70% of the realized price of milk will go to the farmer;
New loans will be issued to small farmers (loan waiver); and,
Cases registered against agitating farmers will be dropped (large scale preventive detentions and illegal arrests happened during the agitations).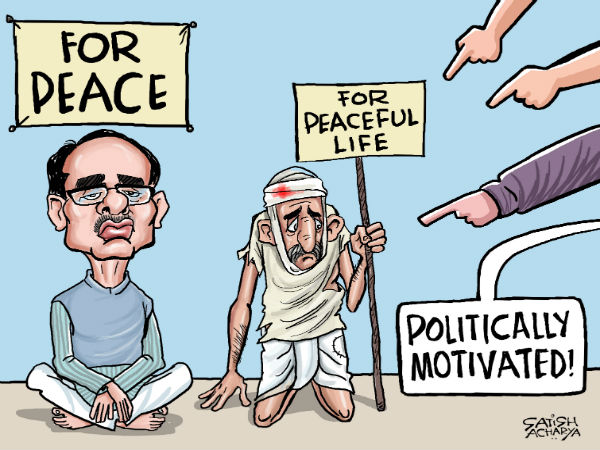 While welcome, from the farmers' perspective, these measures provide temporary relief. The realities of farming mean that the expenses borne by farmers along with unfriendly regulations will in all likelihood bring the farmers back to similar situations. However, this time farmer representatives should be able to apply lessons from the previous grand loan-waiver by the UPA in 2008. That loan waiver, did not quite have the impact that was expected and never reached the bulk of farmers in whose name the waiver was made.  Sainath outlined some reasons for this happening:
The 2008 loan waiver excluded everyone who had over 5 acres of land. However, a differentiation was not made between irrigated and unirrigated land. In Vidharba, average land holding is ~7 acres of unirrigated land. In western Maharashtra it is half of that but is very well irrigated. This means that 2 acres in western Maharashtra could be much more productive than 10 acres elsewhere like Vidarbha but a farmer in Vidarbha would have been excluded from the waiver. Eventually, in Maharastra ~53% of waiver value went to 6 districts, mostly in western Maharashtra.
The 2008 waiver dealt largely with bank debt. In reality, bulk of farmer debts were private debt. Therefore the bulk of farmers who were suffering did not have bank accounts and were completely excluded from waivers made in their name.
3) Costs of farming have been rising while farmer incomes have been stagnant
One of the biggest issues for farmers is the ever-rising cost of farming without a corresponding increase in farmer incomes. The government of India constituted the National Commission on Farmers (NCF) in 2004. The NCF was chaired by Professor M.S. Swaminathan and submitted five reports to the government. The findings from these reports are often referred to as those of the Swaminathan Commission. One of the key recommendations of this commission was setting up a Minimum Support Price (MSP) for farmers at at 'production cost plus 50%'. The rationale for this recommendation was  the need to safeguard interests of small farmers and the increasing risk of taking up agriculture as a profession. This essentially means that a farmer would receive Rs 150 for every Rs 100 spend. What the true costs of production for farming are, warrant a separate discussion (farmers also have other costs associated with healthcare, education etc.). This recommendation of 'production cost plus 50%'  has been touted by various  political parties, but never truly implemented. Recently, the BJP promised implementation of this recommendation in their 2014 manifesto.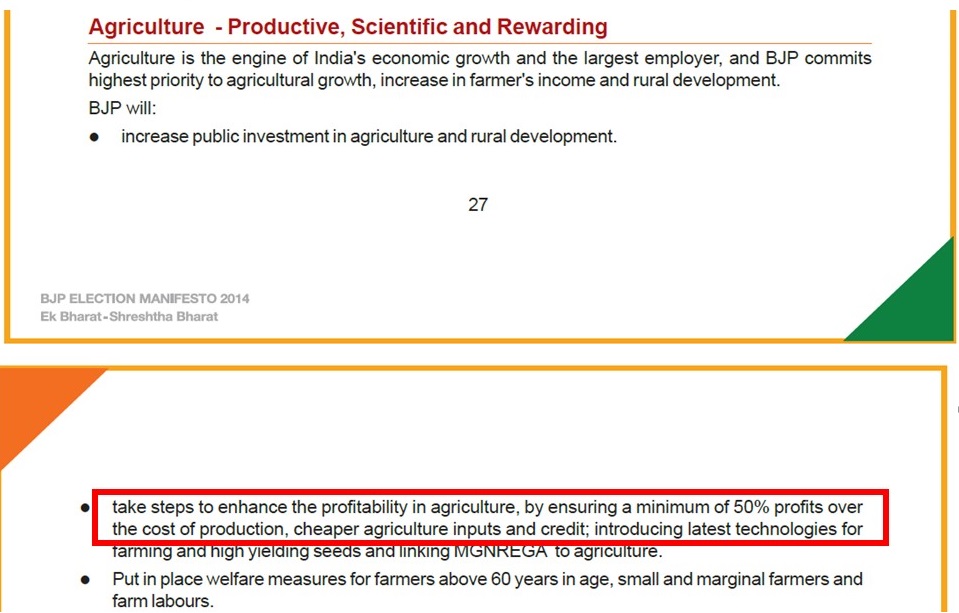 However, within months of being elected, the BJP submitted an affidavit to the Supreme Court backing way from its pre-election promises (as per Sainath, without any real explanation as to why). After the recent discussions in Maharashtra, it is expected that Fadnavis will be taking a delegation to PM Modi to reopen these discussions.
Why are costs so high for agricultural production?
As per Sainath, every government has allowed corporations to to run amok with price gouging. Some instances of this:
Over the past  two decades, due to corporate interests, the price of  some seeds for farmers has increased between 500 to 700%. Some pesticides and fertilizers have doubled and trebled in price. All this, has not been matched with similar increases in farmer incomes (hence the MSP debate).  To put this in more context, as per the National Sample Survey Office's findings for 2013/14, the average income of a farm household was Rs. 6,426 per month . Which means an average per-capita income of around Rs. 1,300 per person for a family of five.
Seed packets earlier had a minimum germination rate of 80-85%. This means 80% to 85% of seeds were guaranteed to work. Starting with Chandrababu Naidu's time in Andhra Pradesh, the minimum germination rate was lowered to 60%. So this means if a village pays for 10,000 bags of seeds, they actually received 6,000.
The hardships faced by smaller farmers are always more pronounced. As per a report in the Hindu that analyzed the National Sample Survey Office's findings – A farm household needs to have at least 1 hectare of land to make ends meet every month. But given that over 65 per cent of households have less than one hectare of land, this means that two out of three farm households are simply not able to make ends meet.
Governments on their part love talking about increasing farmer incomes. The BJP even said it would double farmer income by 2019. Sainath implied that this is not realistic and far from happening if the government is talking about real income (factoring for inflation).
4) Corporations receive 'incentives'. Food growers, who are literally dying, receive 'handouts' & 'subsidies'.
In general, most of our financial policies and practices are highly unfriendly towards farmers. As per a recent report in The Wire – The Gujarat government gave a loan of Rs 456.79 crore to the Tatas to set up the Nano plant at Sanand, near Ahmedabad at an interest of 0.1%, to be paid back in 20 years. Laxmi Narain Mittal, was given Rs 1,200 crore by the Punjab government to invest in the Bathinda refinery. He also got the loan at a 0.1% rate of interest.
On the other hand, if an extremely poor woman in a village wants to buy a goat worth Rs 5,000, she goes to a micro-finance institute (MFI), which provides her a loan at an interest rate of 24% to 36% or even more. Farmers buy a tractor at an interest rate of 12%. Big entrepreneurs can buy a luxury car at an interest rate of 7%.
Sainath spoke extensively of 'revenues forgone' every year by our central government in order to aid the growth of corporations. As per this report: Revenue foregone in the case of corporate tax rose from Rs 76,858 crore in 2015-16 to Rs 83,492 crore in 2016-17. In the case of indirect taxes (customs and excise), revenue foregone increased from Rs 1,48,442 crore to Rs 1,54,822 crore over the same period. The companies of one man, Vijay Mallya, were provided with Rs. 9,000 crore of loans by our public banks. In all these instances, it is the top 1% to 5% of the population that truly benefits.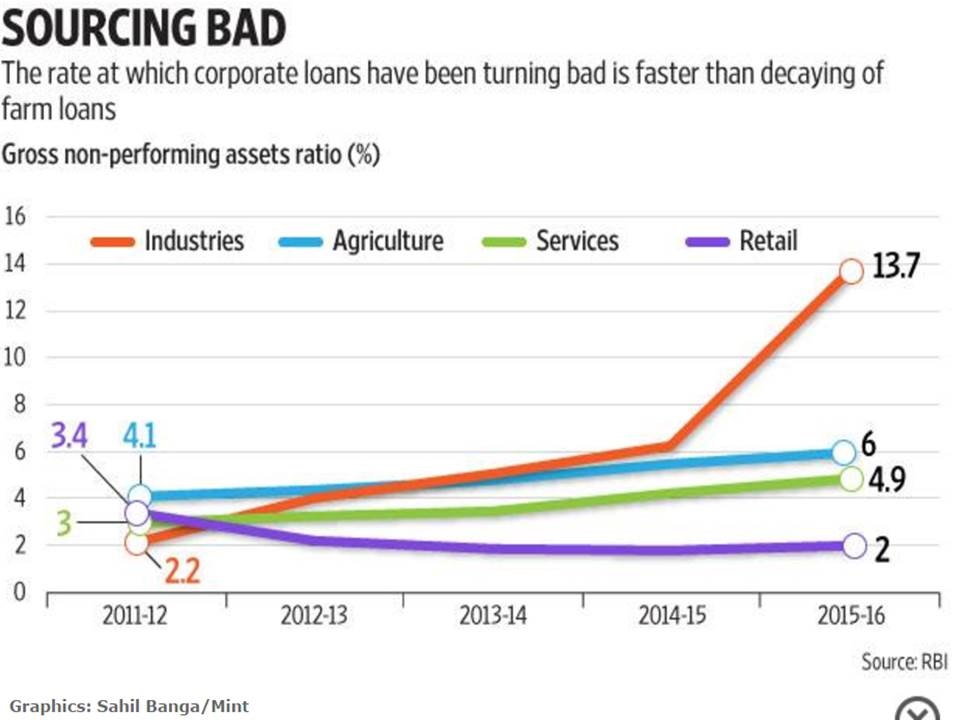 However, when it comes to loan-waivers or subsidies for farmers, we are unable to elicit the same level of public or government support. Sainath emphasized that all our recent finance ministers, Pranab Mukherjee, P Chidambaram and Arun Jaitley love speaking about increases in agricultural credit. However, they do not mention that loans under 2 lakhs or the lower end of farm loans have not grown as needed. Whereas, loans in the crores have exploded. It is typically, these large loans taken by agricultural corporations and other corporations that end up becoming Non Performing Assets (NPAs) – while their recipients like Mallya continue to live lives of affluence and extravagance.
5) MGNREGA's 100 days of guaranteed work per "household", lasts for a couple of weeks
Sainath stressed that MGNREGA (Mahatma Gandhi National Rural Employment Guarantee Act), which guarantees at least 100 days of work to every household at set rates, is desirable, but not sufficient. Governments often show compartmentalization between farmer and labour interest. Whereas in reality, some of the biggest beneficiaries of MGNREGA have been small farmers who use MGNREGA projects in off-farming seasons. Households that have 8-10 people finish their MGNREGA work in 10-15 days. Many don't wait for MGNREGA work. Sainath gave an example from Orissa, where MGNREGA keeps failing because people are migrating to brick kilns of Andhra as there is guaranteed more work across several months even though they work at half the rate of MGNREGA projects.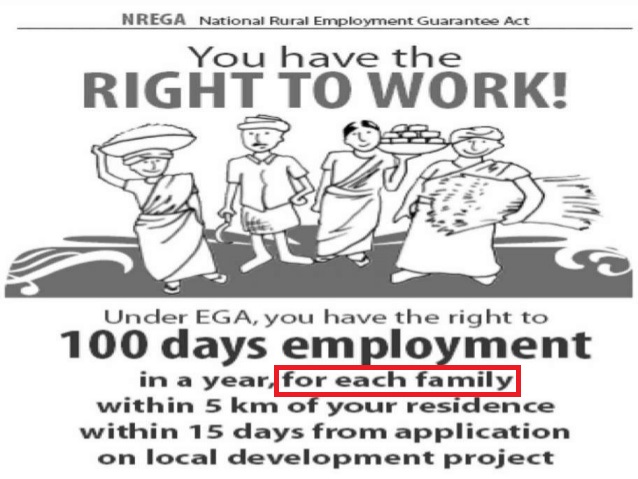 Politically, Sainath said that Manmohan Singh and P Chidambaram were never in favour of MGNREGA and carried out the program very reluctantly. This tradition has continued with the BJP. For instance, the government cut Tripura's MGNREGA budget substantially, despite it being the best performing state in implementing the program, but approximately doubled Gujarat's budget, where most work is automated/machine based.
6) Leaving farming to become domestic servants in cities is not a model of progress
As mentioned in the video above, Sainath touched upon the lack of alternatives available to farmers in terms of new jobs. He spoke about how 30 years back a person leaving from Ratnagiri came to Mumbai to become a mill worker. Today these mills are pieces of real estate owned by the Godrejs and  Ambanis. A peasant from Ratnagiri today becomes a domestic servant and adds to the gigantic pool of cheap labour.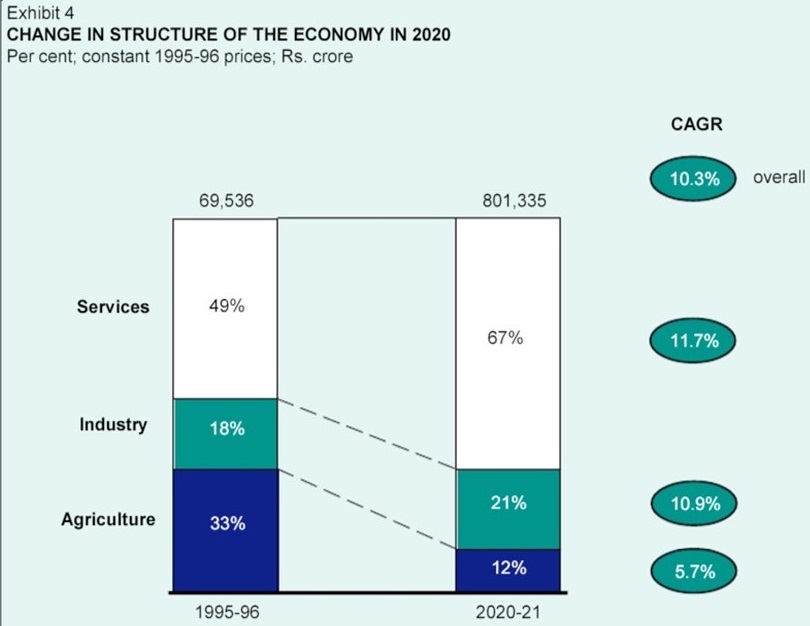 Sainath provided further examples from Andhra Pradesh, where Chandrababu Naidu used the consulting firm McKinsey&Company to create a "Vision 2020" document. This document, outlined a drastic reduction in the number of farmers without really determining precisely where the displaced farmers would be employed.  In Andhra, the percentage of farmers declined from 22.52 per cent in 2001 to 16.47 per cent in 2011. In the same period, number of agricultural labourers had increased by 40 per cent. Sainath suggests that this essentially shows that the policies are playing into hands of corporations. People are still farming – but for larger farmers/corporations without necessarily owning land themselves.
7) Micro-credit: Nobody's lives are ever transformed by being placed in debt at interest rates >30%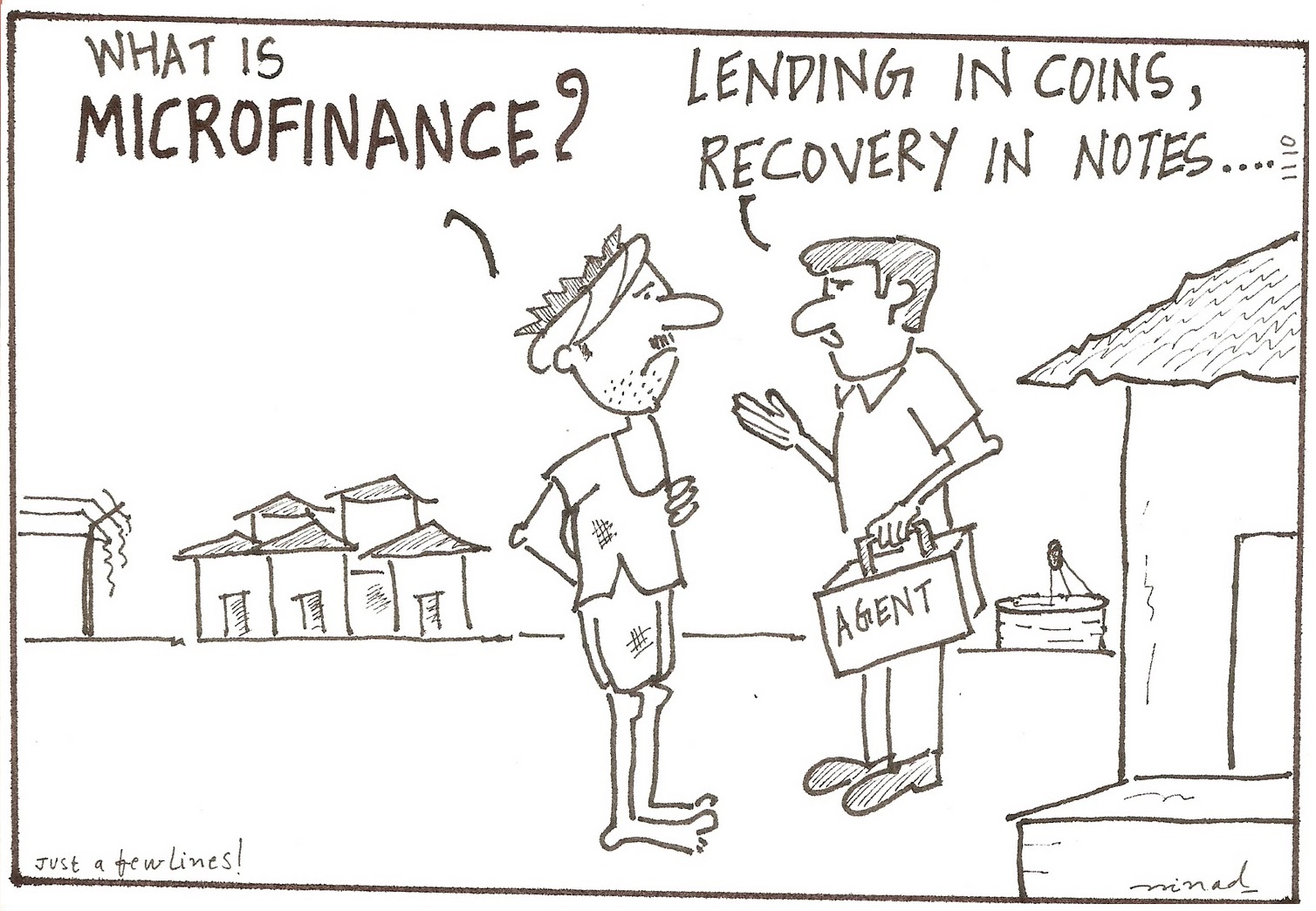 Sainath recognized the legitimacy of Micro-credit as a tool, but said that the way it was implemented, made it a tyranny. In 2012, the RBI had to force Micro Finance Institutes (MFIs) to not charge more than a 26% interest rate. This provides an insight into how high the interest rates would have been prior to RBI's intervention. MFIs are in many cases, worse than local money-lenders. At least, local money-lenders are rooted in the communities borrowing money and are lending money from their own assets. In terms of the transformational potential of micro-credit, Sainath said that one should not forget to emphasize on the word "micro" – there is only so much that a micro-credit can do to transform a farmer's life.
8) Cattle Trade: Farmers can barely feed themselves, let alone cattle that they cant sell
As per Sainath, one of the fundamental lessons given during training to an officer in the Indian Administration Services (IAS) is that if prices of cattle fall by ~30% or transactions fall by ~40-50% it is a signal of a serious crisis. In Vellore, Tamil Nadu, over the last couple of weeks, prices fell by 50-60% and transactions by ~80%. In areas of Maharashtra, prices fell by ~60% and transactions by ~50%. The ongoing beef-ban/cattle-sale ban has played a major role in wrecking an industry on which rural populations (of multiple faiths & castes) have had great dependence. It is common knowledge, that the government's recent actions have been heavily influenced by a 'Hindutva' agenda – the consequences of which are unfortunately felt by our most marginalized populations. Sainath added that if maintenance of cattle is going to be made so difficult, then we can expect to see:
A sizeable increase in stray cattle – this is already happening in Uttarakhand and Maharashtra where villagers are abandoning live cattle at forest edges for leopards to kill and consume.
A decline in cattle population – this will have an adverse effect on beef exports (which India is a world leader in). But more importantly, it will continue to have a crippling effect on livelihoods. For instance, well before #MakeInIndia, the state of Maharashtra boasted of Kolhapuri Chappals. As per this report, Maharashtra's leather business has gone down by nearly 90 per cent after the state extended the ban on cow slaughter to bulls in March 2015.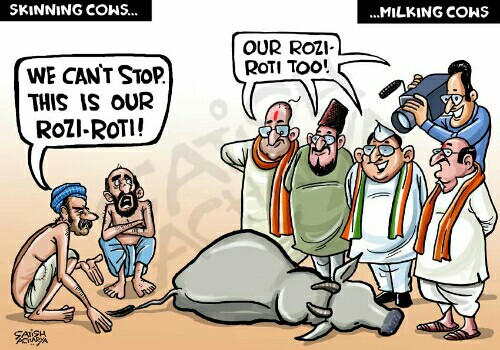 Sainath added that mismanagement of livestock, is something previous governments have also been guilty of. For instance, previous governments have obsessed with exotic cattle species, leading to a decrease in desi breeds of cattle. These desi breeds had evolved over millions of years to Indian climate, soil and food. Farmers have often struggled to afford maintenance of exotic species. Sainath recounted, that it was once suggested to him by a farmer to give exotic buffaloes to bureaucrats instead of salary increases – and give the bureaucrats' pay-rise to farmers in return!
9) 'Farmer Widows' are also Farmers, and don't belong in the 'Others' column

Farmer widows are invariably farmers. In fact anywhere between 40% to 60% of India's farmers are women. Sainath suggested that a lot of statistics put out by governments are able to fudge data by being ambiguous about our women farmers. For instance, at one point, Maharashtra was differentiating between 'farmer suicides' and 'farmer's relatives suicides' in order to show that there are fewer farmer suicides. States like Punjab and Haryana, have in the past recorded suicides by women farmers as 'women suicides' rather than also including them as 'farmer suicides', in order to show that fewer farmers are committing suicide. Overall, this is one of the ways through which the government fixes surveys and research data to show progress.
Additionally, since few women own farming land, accessing government schemes and institutional credit becomes complicated for them.  Only ~9% of  agricultural land is owned by women.
10) Water flows from Rural to Urban; From Urban to Urban Luxury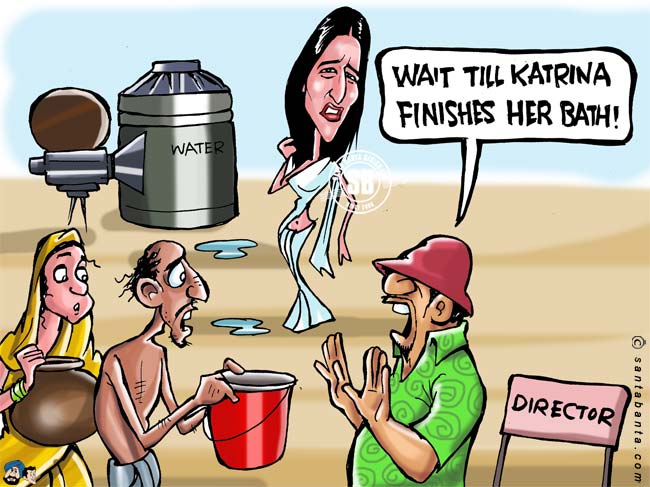 Sainath spoke about the recent experiences of Maharastra in dealing with droughts. In the state, cities get 400% more water than villages, even though most of the water comes from rural India. During the Marathwada drought, rural women stood in queues and paid between 45 paise to Rs. 1 per-litre of water, all while was losing income standing in front of a tanker. In the same region alcohol and beer factories were getting the same water at 4 paise per-litre for several million litres daily.
Government corruption has also, of course, played its part. Under the NCP government in Maharashtra, it is estimated that  Rs 70,000 crore was spent on various irrigation projects in the last decade, while the state's irrigation potential had increased only 0.1%.
11) Arguments in favour of Genetically Modified (GM) Food are often cloaked in Financially Modified Science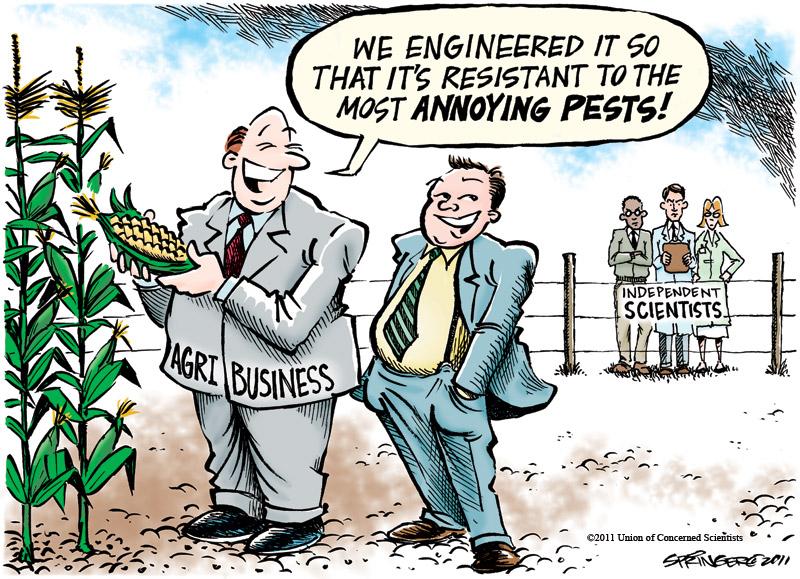 Sainath warned that the current government's stance on opening up to GM food is not rooted in robust science. The Supreme Court appointed Technical Expert Committee (TEC) had sought a 10-year moratorium on field trials on GM crops – the government wants to ignore this. The practices of corporations like Monsanto that  force farmers to only purchase their seeds and kill local varieties are well documented. Sainath added that claims of increased productivity/yield of GM crops are often fabricated. Regarding GM Mustard, which may well be allowed in India, it was reported that – Activists, independent scientists and farmers groups under the umbrella of the Coalition for a GM-free India claimed that rigged data was being used to shore up false claims of higher yields and biosafety.
Studies by the UN have also shown that GM crops do not increase yield. The Food and Agriculture Organization has stated that, small-scale farmers produce over 70% of the world's food needs – not giant corporations that stand to gain most financial benefit from controlling agriculture. In 2012, Sainath had extensively reported on the charade of claiming that Bt Cotton had been a success in India and he warned that India could be committing a catastrophic blunder by not basing its acceptance/rejection of GM food on science but rather on economic benefits to large corporations.
So what can be done?
Sainath spend some time on elaborating upon steps that may help towards finding a solution to the agrarian crisis:
Develop a better understanding of the lives of farmers: As per Sainath, the country had far more empathy towards farmers in the 1960s and 70s. During the Bihar drought of the 60s and Maharashtra drought of the 70s, there was public action that included thousands of students and volunteers moving to the countryside to help out. The Jayaprakash Narayan movement was also a big part of this in the 60s. In order to connect us better to rural India, Sainath has been part of a project called PARI (People's Archive of Rural India).PARI is an endevour towards telling the stories of rural Indians, rather than viewing them as statistics. From a moral standpoint, the country may benefit by moving towards a position that empathizes with food growers and places a high priority on their needs.
 10 day parliament session focused only on agriculture: Based on the Swaminathan Commission, there are many facets of farming and lives of farmers that need to be discussed in detail. Sainath alluded to there being a substantial difference in the reality of farmers' lives versus what the government understands. For example, in discussions regarding MSP, farmers have a very different concept of how much it costs to cultivate an acre of paddy versus what the government says. Sainath also suggested having a couple of days of testimonies from farmers to make sure our lawmakers understand the different hats that farmers wear and implications of government policies on them.
Building on successful programs: Sainath spoke highly about Kerala's Kudumbashree programme.  One of the projects under this programme involves communities of women leasing land from the government to grow crops. The women ensure that the produce first goes to their own community before being put out in the market. The independence also allows them to be majors players with the financial system since they are often one of the larger depositers in banks. The model is not dependent on 'entrepreneurship', which focuses on creating systems where members in  a community end up selling to each other to be sustainable – but rather on collective strength and working together.
You can view the full video here:
Note: wahsarkar.com has no connection or affiliation to P.Sainath, nor to any organization referenced in this post.

Copyright secured by Digiprove