Bharat Mata ki Jai!
Bharat Mata has long been plagued with religious and cultural diversity. From Trump in the West to Kim-Jong in the East, we are faced with increasing global competition to create  fundamentalist societies. Thankfully, we have been able to come up with our very own #MakeInIndia solution to keep abreast with the times. Our government's Hindutva governance is based on thousands of years of research and provides a unique solution to creating a homogeneous Indian society.
A couple of years back, we identified a few Hindutva superheroes – many of whom have now moved on to greater heights. And last year we provided you with a quiz to help prepare for a Hindutva India. Now that we are three years into this government, we wanted to help you understand the new rules for #NewIndia.
New Rule #1:

Hindu men are the new Messiahs 
Who needs saving? Cows? women? even Muslim women? Hindu men are here and are ready to save you.
A key thread in #NewIndia, is our obsession with cows. At some point in the last three years, we realized that India's prosperity is almost completely linked to our cows. Far too much has been made of silly issues like poverty, malnutrition, pollution etc. etc. Ultimately, cow welfare is all that matters. And we of course practice what we preach. This is a photo from just  outside the gaushala of one of our premier cow vigilantes, Yogi Adityanath.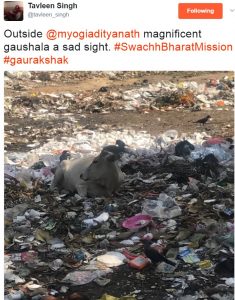 Scenes like this are commonplace across the country. Notice how the cow thrives in this natural habitat of randomly assorted garbage that functions as its bed, its food and its feces.  Our strategy is to harp on the cultural importance of cows and for good measure beat up (and sometimes kill) a few people who are suspected of harming cows. We are forever indebted to the army of selfless Gau Rakshaks who have dedicated their lives to this cause.
Hindu men also have a special place in their hearts for damsels in distress. To ensure that nothing immoral ever happens, squads of men or anti-Romeos, will descend upon any harmless couple daring to participate in consensual yet immoral acts of love and/or affection. We have variants of this across the country. You may remember this incident from 2015 in Maharashtra where the police arrested 40 consenting adults from hotel rooms. Women of course, are overjoyed when their partners are thrown into jail or publicly embarrassed.
One of the most critical recent contributions of Hindu men has been the new found appreciation for the pain triple talaq  causes to Muslim women. This is the only reason why Hindu men want a uniform civil code – just to ease the pain of Muslim women who need a saviour and are clearly completely and utterly incapable of figuring this themselves.
New Rule #2:

Kashmiris are the lowest form of life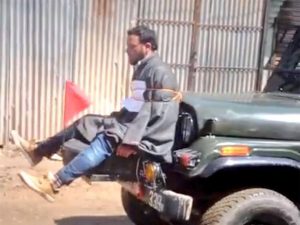 Historically, many have confused what we mean when we say that Kashmir is a part of India. Kashmir is Indian i.e. the physical piece of land is Indian – not the people who occupy this land. In fact the people who occupy the land are barely human. We recently found out that a Kashmiri can be used (successfully) as a shield against stones and bullets. And then we  extensively celebrated this event of dehumanizing a Kashmiri. Surely this will only create love for the Indian state in minds of all young Kashmiris who see these scenes. Most importantly, each and every present day Kashmir resident is personally responsible for the exodus of Kashmiri Pandits from the valley. Our Hindutva memories are very selective and we will never forget this. When the tables were turned in Gujarat, we punished the man in charge by providing him with a historic electoral mandate to run the whole country.
New Rule #3:

Saffron robes are actually superhero capes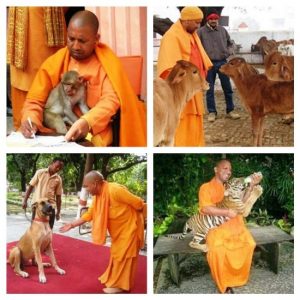 What future would you have if you had pending criminal cases that included charges of attempt to murder and causing religious disharmony? What if you founded an organization which gave a call to dig up the graves of Muslim women and rape them? In #NewIndia, this means that you will be rewarded with running a state. What we forgot to mention is that Yogi Adityanath is clad in the colour saffron. This means that there is a different set of standards for a superhero like Yogi Adityanath. In fact, some of the most important criteria for his selection included his history of taking photographs with various respected members of the animal kingdom.
Another man who is on the rise is Baba Ramdev. This austerity king's companies have received more than Rs. 300 Crore in discounts for land acquisitions in states controlled by the BJP since Modi came to power. As expected, revenues at his consumer goods enterprise are also soaring – from about Rs. 1,000 crore in the financial year ending March 2013 to more than Rs. 2,000 crore in the year to March 2015, according to financial filings. In early May, Ramdev said revenues in the financial year just ended had jumped to about 10,000 crores!
New Rule #4:

Intolerance is a virtue. Abusive intolerance is heroic
.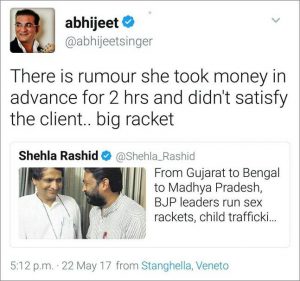 The intolerance debate has reared its ugly head time and again over the last three years. For some reason, liberal Indians feel that they can hold opinions that don't match those of our government. Thankfully, we have recently received some much needed help from a partner who some thought was a bastion of liberal expression – Bollywood. Every few days, we get a reminder that our illustrious Bollywood celebrities are also champions of bigotry.  One of our future Hindutva hall of fame inductees, Singer Abhijeet recently showed us how to be be patriotic while abusing women and calling them prostitutes. When Twitter banned him, we responded and #IstandWithAbhjeet, which trended on Twitter. Other stalwarts like Paresh Rawal and Anupam Kher have also graduated to Hindutva protectors.
Overall we have found a formula that  works. If we see a woman holding an opinion that doesn't match the government's, then it is justified to call her a prostitute and abuse her because this is in the larger national interest. Brave Hindutva soldiers dedicate countless hours everyday in this noble endeavour. For example, our greatest enemy, Barkha Dutt, had this to say about the abuse she receives – "I have been called a whore, a 'randi', 'c***", bitch and 'presstitute" on Twitter and other social media platforms so often that now I barely notice it. It is not unusual for me to get tweets that go like this: "Tum agar randi bhi ban jaogi, phir bhi tujhe koi nahi ch*****" (even if you become a prostitute, no one will have sex with you). My mobile number has been shared publicly on multiple online platforms urging people to send me abusive and threatening messages." 
New Rule #5: Rhetoric is truth. Facts are anti-national.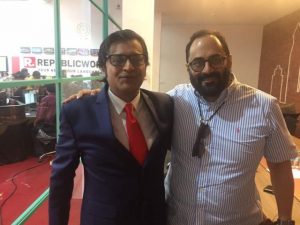 Our Twitter warriors have taken care of journalists like Barkha Dutt who feel that they can get away with reporting that is nuanced and unprejudiced. More importantly, our journalistic hero, Arnab Goswami has already risen to the top in a few weeks since he returned to television. Whatever the  "nation wants to know", we clearly want to know it from Arnab. His bellowing voice is able to shred the facts and present us with an oversimplified narrative that we are comfortable dealing with. An unsung hero in this whole story is Rajya Sabha MP, Shri Rajeev Chandrasekhar. This man is one of the largest investors and a director in Arnab's new media venture, RepublicTV AND he has been the vice-chairman of NDA in Kerala since September 2016. So we must thank BJP representative Rajeev Chandrasekhar for helping to create a government mouthpiece, packaged as news.
In New India, we celebrate the government's achievements the moment a new policy is implemented. Take for instance, the brilliant move of demonitization that in one swoop achieved all of the following:
Ending terrorism
Crippling Naxalites
Complete adoption of the cashless economy
Destroying black money and all corruption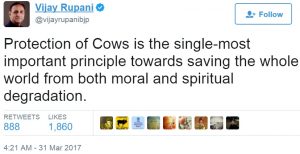 Now the #Presstitute/#PaidMedia  may say that almost none of these things actually happened. But we can't let facts get in our way. All the lakhs who lost their livelihood are in reality overjoyed to make a contribution towards creation of a false narrative that demonitization was a massive success. And now we are going to repeat the success demonitization had with an equally ill-conceived 'slaughter-ban' to ensure that any anti-national who survived demonitization can be dealt with during the next few months.
It is in your best interest to join the saffron side and live by our nation's new rules. To simplify it, we basically don't recognize any other religion in Bharat apart from Hinduism and even if you are Hindu, we need you to abide by our perverse practices. Jai Hind!

Copyright secured by Digiprove