The Wire has dared to malign Jay Amit Shah by questioning the business practices of this financial prodigy. In reality, Jay Amit Shah is a genius who needs to be recognized & celebrated. Thankfully, The Wire is being sued for Rs. 100 crore for defaming an honest, hard-working businessman.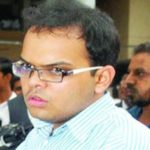 Why can't more Indians be like Jay Amit Shah? Instead of complaining about the economy and government policies, this chai wala's right hand man's son decided to pull off an economic miracle. Jay Shah's Temple Enterprise Pvt. Ltd. will go down in history as one of the most prolific overnight business successes. Finance Minister Arun Jaitley was probably trying to replicate Jay's success at a national level with silver-bullet solutions like Demonetisation and GST. But not everyone is blessed with Jay's business acumen. It's time to hand over the reins to Jay Amit Shah and allow him to replicate his business success across the country.
Here is a snapshot of boy-genius Jay Amit Shah (B.Tech, Nirma University) increasing his company's revenues by 16,000 times over a one year period.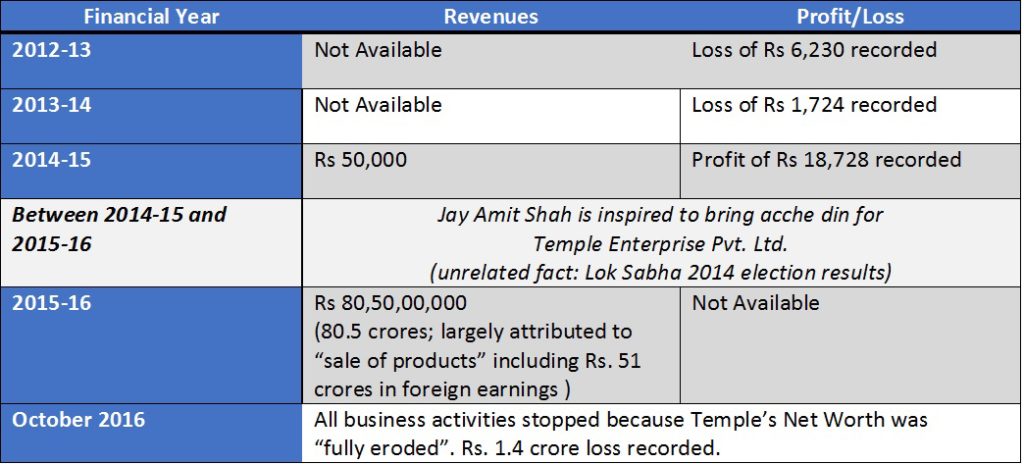 Around the time when Temple Enterprise was on the cusp of greatness (when its annual revenues were already at Rs. 50,000), one Rajesh Khandwala saw the tremendous potential in Jay's company & provided Temple Enterprise with an unsecured loan of Rs 15.78 crore. Rajesh Khandwala happens to be the samdhi of Parimal Nathwani, a BJP Rajya Sabha MP & a senior level executive at Mukesh Ambani's Reliance Industries Ltd. – but this is completely and totally irrelevant to the loan being given to Jay.
Rajesh Khandwala also appears to be a financial wizard – one that we can all take inspiration from. His financial company KIFS, was able to provide an unsecured loan of Rs. 15.78 crores to Temple Enterprise in the same year that KIFS had annual revenues of Rs. 7 crore.

There are other boring details in the story put out by The Wire. Like in 2015, the same year KIFS provided a multi-crore, unsecured loan to Temple Enterprise, Rajesh Khandwala (KIFS) and Jay Amit Shah also formed a limited liability partnership (LLP), Sattva Tradelink, that was dissolved later (business decision). KIFS and Jay Amit Shah also formed Kusum Finserve, a limited liability partnership incorporated in July 2015 with Jay Shah owning a 60% stake in it. Crores were transferred between KIFS and Kusum (business decision) and this partnership has generated over Rs. 24 crores in revenues. Kusum Finserve's stated business is trading stocks, but it decided to setup a Rs. 15 crore worth windmill plant in Madhya Pradesh (business decision). Kusum Finserve also managed to raise a loan of Rs 25 crores from Kalupur Commercial Cooperative Bank and Rs 10.35 crore loan from a public sector enterprise, Indian Renewable Energy Development Agency (IREDA – overseen by BJP minister Piyush Goyal at the time) through methods which need expert business skills (which are readily available with Jay Amit Shah).
But let's not digress – The nation is thankful for this inspirational story. It is not every day that we see thousands being leveraged to make tens of crores within the time span of a few months. Jay Amit Shah is a creative genius whose financial ingenuity should encourage all Indians to dream bigger. Jai Hind & Bharat Mata ki Jai.

Copyright secured by Digiprove