'The West' hates India. As do India's own minorities and liberal minded 'intellectuals'. Thankfully, our future is safe in the hands of BJP and its ideology. Today, our expertise in cow excrement has put us on the brink of redefining medical research. Our BJP leaders have shown us a path to hate everyone who isn't the majority. And being patriotic is now easier than ever before. Here are some of the best Hindutva quotes from 2017, and some important lessons for all of you struggling to adapt to acche din.
1) Being a Bad Hindu causes Cancer
"It is a sin to shirk responsibilities. No one can go unpunished in God's court if a member of his or her family does some injustice. Some people suffer from cancer, some die in accidents. This is all because of sins." (21 Nov 2017) ~ Himanta Biswa Sarma, Assam health minister made this statement in Guahati, Assam, while addressing a group of newly appointed schoolteachers. He was referring to a section of teachers in state government schools notorious for bunking classes.
2) Only anti-nationals get married outside India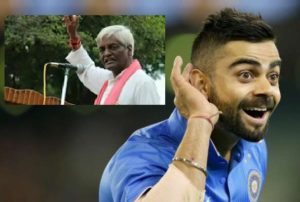 "Virat has earned money and fame in India and he went to Italy to get married. Bhagwan Ram got married on this land, Bhagwan Krishna got married on this land and this man went to Italy to get married. He cannot be a rashtra bhakt [patriot]." (19 Dec 2017) ~ Panna Lal Shakya, BJP MLA from Guna, Madhya Pradesh said this while inaugurating Prime Minister Narendra Modi's Skill India Centre in Guna. He added that Kohli (who is India's cricket captain) cannot be an inspiration to Indians as only those who are loyal to their country and swore by it deserved to be an inspiration. He said the same about Anushka Sharma as well.
3) Momos are worse for society than alcohol & drug addiction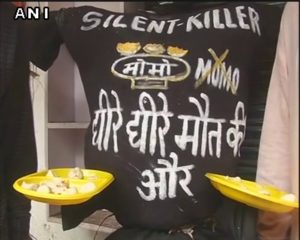 "Momos are more dangerous than alcohol and psychotropic drugs … (Momo) is a killer and (Indians cannot) allow a killer to grow in a civilized society." (29 Jun 2017) ~ Senior BJP leader Ramesh Arora, who is often incensed with China, said this while he protested Momos as an outlet for his anti-China ire.
4) Hindutva identity politics will  make your country powerful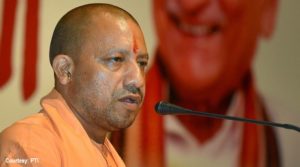 "India can become able and powerful only when UP becomes able and powerful, and for this we need to end the politics of caste and appeasement which has been in practice for the last 15-20 years." (16 Oct 2017) ~ Yogi Adityanath (Ajay Mohan Bisht), the chief minister of UP was speaking at the 'bhumi pujan' ceremony of a GAIL gas terminal and a unit of the Hindustan Fertiliser Corporation Limited in Gorakhpur, Uttar Pradesh. Purification drives to convert non-Hindus to Hindus, installing Gauri-Ganesh in every mosque and leading the Hindu Yuva Vahini to judge your Hindu morals are some of Ajay's other passions.
5) Your Future ∝ Cow(Dung+Urine+Milk+Curd+Ghee) +(jaggery, banana, tender coconut, water)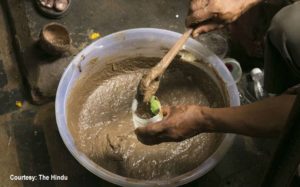 "Yes, we have received proposals from CSIR labs, IITs, NITs (national institutes of technology), and agricultural institutions among others. We have not finalized any projects yet as they are being evaluated." (3 Aug 2017) ~ V.K. Vijay, head of the Centre for Rural Development and Technology at IIT Delhi is talking about the proposals received by IIT Delhi which came after a National level 'brainstorming workshop' was organized by the institute in December 2016 to deliberate on Scientific Validation and Research on panchagavya( a concoction of cow dung, cow urine, milk, curd and ghee. Along with the five constituents that come from the cow, it also contains jaggery, banana, tender coconut and water). A 19-member committee headed by Union Science and Technology Minister Dr. Harsh Vardhan has been constituted to select projects that can help scientifically validate the benefits of panchagavya. At a time when lack of funding at CSIR and ICMR is leaving scientists with little financing for research, a national programme will attempt to validate the benefits of panchagavya for various medical and non-medical purposes.
6) "Rascals, lesbians, homos, and left wing loonies" are part of the anti-national brigade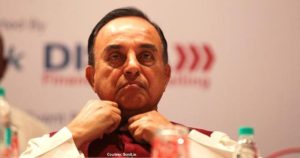 "Thank those rascals, lesbians, homos, and left wing loonies at Harvard who voted behind my back and without notice to terminate my courses." (16 May 2017) ~  Subramanian Swamy, Rajya Sabha BJP MP, tweeted this to one of his followers. Swamy was removed as a professor from Harvard after he wrote two articles that included recommendations like demolishing hundreds of mosques and only allowing Muslims who acknowledge their Hindu heritage to vote. 
7) Utter some Sanskrit-sounding gibberish to prove your patriotism
"… Subhrat Jotsam Pulkityaam Vande Mataram Pulkistan Sumita Dumal Tsunami Suhasin Sumantra Bulshumaani Vande Mataram." (31 Oct 2017) ~ this is what BJP spokesperson, Navin Kumar Singh was able to utter (while reading from his phone) when challenged to sing  Vande Mataram. Navin Kumar Singh was in a television studio, trying to make a case for compulsory singing of Vande Mataram at various platforms, from schools to legislatures. Over the year, across TV news shows, many BJP leaders failed to sing/ attempt to sing the very song they want made compulsory for everyone else.
In 2018, enemies of India will tell you that farmers are committing suicide, urban centres are collapsing with bad infrastructure & pollution and that children are dying of malnutrition at embarrassing rates. But remember, none of this matters. All you need to know is that we are closer than ever before to a glorious Hindutva utopia. #MandirWahiBanayenge

Copyright secured by Digiprove