Kejriwal's media-fed frenzied 'movement' inspired many to join the AAP. But even in the party's early days, some key personnel chose to break-up with the party within months. And as they left, everyone said the same thing – there is no democracy in Kejriwal's party and little difference in the way AAP functions when compared to other (so called 'corrupt') parties.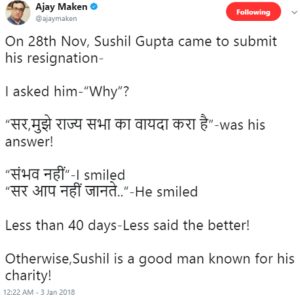 Hasya Kavi Kumar Vishwas is not a happy man these days. Though his smile is still intact, Kumar Vishwas, a member of AAP's National Executive is clearly hurt by the party's recent selection of Rajya Sabha nominees. The AAP, which not so long ago made its name by destroying (at the polls & in reputation) the Indian National Congress in Delhi, decided to give one of its Rajya Sabha nominations to Sushil Gupta. It so happens, that Gupta is a former Congress member. Once fundamentally opposed to everything to do with the Congress, the AAP leadership (read Kejriwal) had no qualms in backing a former Congress member (who also happens to be a multi-millionaire). Sushil Gupta ran in 2013 for the Delhi Assembly on a Congress ticket. In a recent interview, Kumar Vishwas remembered the time when he was addressing a rally in Delhi's Moti Nagar, when Sushil Gupta, the Congress candidate passed by in his carcade and showed him a 'V' sign. "I said on the mic that the people will crush his money power, and they did. He lost the election, but now he will be our Rajya Sabha member."
As has become the norm, the party that pledges to "redefine the political landscape of India", continues to function similarly to any other political party where political convenience always seems to be the most important decision making criterion.
Kejriwal Breakups – it's always been his fault
People have been breaking up with AAP and Kejriwal for years. Some of the break-ups have been more high profile than others. The ouster of Prashant Bhushan and Yogendra Yadav was well documented by the media. Stalwarts like Shanti Bhushan and Medha Patkar followed suit. Early partners of Kejriwal, from the India Against Corruption days like Kiran Bedi and Anna Hazare ditched Kejriwal's ideology and broke away from him well before AAP started winning elections. Then there are other former AAP leaders who decided to switch to BJP. This includes Vinod Kumar Binny, Ashwini Upadhyay (founder member of AAP who apparently left along with 2,400 AAP members), MS Dhir, Shazia Ilmi, Sahlil Kumar, Rajesh Gupta & Colonel SC Talwar.
But there is another group of people, who in all likelihood would not have joined a political party. However, they were enamored by Kejriwal and gave politics a shot, only to leave in a few months. They didn't bother with sticking it out to attain positions of power, nor did they immediately join another political party. Here's what this group of people said when they left AAP. Everything they warned us of (about Kejriwal and AAP), seems to be coming true today.
Name
What they said about their AAP experience
Surajit Dasgupta
(quit in Dec 2013)
He is a journalist & former national council member of AAP. On recalling his AAP experience, he said, "Right from the beginning, we noticed a near-total absence of internal democracy in the new party. At the national convention held on 24 November 2012 where the party constitution was adopted, 23 individuals were imposed on us as members of the national executive and six of them were declared as political affairs committee members. There was no election held for the purpose. ... Other than the examples of communalism and dubious methodology of candidate selection, one may try an experiment with the AAP`s supreme leader. Befriend him and get close enough to him as an adviser. Convince him that a certain action or speech has the potential to fetch massive votes for the party. Even if the proposal is downright unethical, Kejriwal will accept it... Now with cases like Kejriwal`s plagiarism and undervalued declaration of assets, Manish Sisodia`s misappropriation of funds for his NGO Kabir, Somnath Bharti`s racism, high-handedness and past as a spammer of pornographic websites, etc (other than the high-command`s act of distribution of election tickets to dodgy characters), even corruption is not a factor that differentiates the AAP from other political parties."
Madhu Bhaduri
(quit in Feb 2014)
Bhaduri is a former IFS officer. She was India's ambassador to Belarus, Lithuania and Portugal. Bhaduri was one of the founding members of AAP. In February 2014 she quit the party alleging mistreatment of the women leaders. She said, "I have just one issue, and that is humanity. And women are humans. In this party, women are not considered humans"… The party has a mentality of a khap panchayat. There is no space for women. If the other women leaders have any self-respect, they will quit too… The party has changed for the weight of votes. They just want to win the elections…AAP wanted to appear to have a view on every subject but actually stood for nothing. Incidentally it was Yogendra Yadav and Prof. Anand Kumar at that time, had turned down my suggestion on discussion with party members and volunteers. AAP from the very beginning was totally a 'Ghaziabad boys club'."
Ashok Aggarwal
(quit in Mar 2014)
Aggarwal is an educationist & lawyer and was a former National Executive member of AAP. On quitting AAP, he said, "The movement seems to have become directionless causing doubts in the minds of people and even people like me who are today feeling the party is functioning like a private company. The connect of Aam Aadmi is on wean and a group of elite individuals is promoted to take over the party. Aam Aadmi has taken a back seat and what's on the mind of such individuals is personal projection at the cost of that very Aam Aadmi vision."
Captain Gopinath
(quit in May 2014)
Gopinath founded Air Deccan and is considered a pioneer in the low-cost airline sector. He quit Aam Aadmi Party, five months after joining it. On quitting, he worte, "I am now disappointed and disillusioned with their tactics, continuing tantrums and agitational ways. I wrote about it repeatedly when I felt they erred….It does not behove the leader of a national party, to disregard the law of the land and take to agitation at the drop of a hat."
SP Udaykumar
(quit in Oct 2014)
Udaykumar is a noted anti-nuclear activist. He quit the AAP as he did not want to help a national party that is insensitive to the problems of Tamils. Udaykumar had joined the AAP on the condition that its Tamil Nadu unit be christened in Tamil and there would be autonomy to the unit to deal with Tamil Nadu issues, especially like the Tamil fishermen's problem, Sri Lankan Tamil issue, beach mineral sand mining, anti-people's projects, social justice and minority issues. On leaving, he said,
"As the AAP high command failed to fulfil its assurance, I have decided to quit the party".

Kamal Kant Batra
(quit in Dec 2014)
In 1999, Kamalkant's son, Captain Vikram Batra (who famously said 'yeh dil maange more'), was killed in the Kargil War. He was 24. On quitting the AAP she said, "I was deeply unsatisfied with the functioning and the organisational structure of AAP. It failed to appeal to me. The party has been a let-down at the state level here in Himachal, and even the national functioning of the party has not impressed me... Also, there is a lot of 'big bossism'. No one from the party, neither Mr Kejriwal nor any member of the national leadership has contacted us after the elections".
Anjali Damania
(quit in Mar 2015)
Damania is a noted anti-corruption activist. She resigned from the party after allegations of "horse trading" surfaced against Kejriwal. A sting operation led to the creation of audio tapes dating back to the days before the dissolution of the Delhi Assembly in 2014 and allegedly had Kejriwal asking Garg (former AAP MLA) to convince six Congress MLAs to quit the party and form a new party so that they can lend support to AAP for a full majority.
Damania quit the AAP with the following tweet: "I quit.. I have not come into Aap for this nonsense. I believed him.. I backed Arvind for principles not Horse-trading."
AAP's presence in Delhi, has allowed the party to take advantage of the ever-present media hungry for news stories. This has also led to more scrutiny of the party, especially considering the sanctimonious positions taken by AAP leadership. However, India has always had new political parties claiming to bring about systemic change and this trend will always continue. For reference, in the 2014 Lok Sabha elections (which were held in the midst of Kejriwal hysteria), AAP fielded 432 candidates across India, the  third most among political parties. Of these, there were just 4 winners. 13 political parties won more than 4 seats in Lok Sabha 2014. Despite AAP's staggering number of candidates, 9 parties had a greater vote share than AAP. Delhi is not India. India is not Delhi. AAP may be a significant player in Delhi but is still a fair distance away from providing a credible alternative to the political status-quo of India.

Copyright secured by Digiprove