There is a lot of debate surrounding the support & reputation of India's Civil Society which is starving itself these days to pressurize the Government of India. Here we compare  Civil Society with the Government through  various parameters. Some of them defy logic. But that's just the world of hunger strikes for you.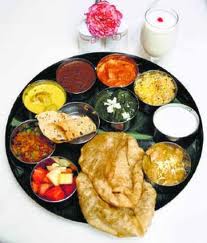 The entire debate started when a committee to draft the Jan Lokpal Bill was created. This committee has 2 camps in it:
(i) Government of India – Pranab Mukherjee, P.Chidambaram, Veerappa Moily, Kapil Sibal, Salman Khurshid
(ii) Civil Society – Shanti Bhushan, Anna Hazare, Prashant Bhushan, N.Santosh Hegde, Arvind Kejriwal
I. 1,000 > 1,00,000
India's civil society is confident that the 'masses' are completely behind it. This was proven by synchronous meetings and lighting of candles in India's major cities during Anna's strike. This in turn validated trusting civil society more than the government because of the sheer mass of people supporting the cause. To put this in perspective, Wah Sarkar decided to look at the number of people who in May 2009, went out and voted1 for the 5 members of the government who are a part of the Jan Lokpal Bill drafting committee.
| | | |
| --- | --- | --- |
| Name | Constituency | Number of Votes Received |
| Pranab Mukherjee | Jangipur – West Bengal | 5,06,749 |
| P. Chidambaram | Sivaganga-Tamil Nadu | 3,34,348 |
| Veerappa Moily | Chikkballapur-Karnataka | 3,90,500 |
| Kapil Sibal | Chandni Chowk -Delhi | 4,65,713 |
| Salman Khursheed | Farukkhabad– UP | 1,69,351 |
Just 5 of India's Lok Sabha Members managed to get the support of more than 18.6 lakh Indians. This figure can be multiplied roughly by at least 100 to get the number of votes received by MPs in the Lok Sabha during the last general elections. Thus there can be no argument in terms of numbers to prove that the 'masses' of the country prefer Anna or Ramdev over the government. Civil Society's 'masses' are in reality negligible when looking at the larger picture. It may be said that a lot of Indian voters are ignorant and bought by politicians. This is true but most of the people who came out & supported the Jan Lokpal were equally unaware of what the bill is and how it would rid India of corruption (quite frankly, few are aware of this).
However it cannot be ignored that the backing received by civil society today is only for the cause of anti-corruption while the votes for political candidates in elections  are based on numerous varying factors.
II. My Corruption < Your Corruption
We aren't even getting into the several corruption charges against the Bhushans. They are now common knowledge but surprisingly even Anna Hazare has proven charges of corruption against him. Here are some quotes from The Justice P.B.Sawant Commission of Enquiry (Govt. Of Maharahstra) Report2 from Feb 2005 :- "The expenditure of Rs. 2.20 lakhs from the funds of the Hind Swaraj Trust for the birthday celebrations of Shri Hajare was clearly illegal & amounted to a corrupt practice"(p365)
"..even those activists who were nearer to Shri Hajare were indulging in corruption and demanding money from the supplicants who came for relief from Shri Hajare." (p359-60)
"There is no doubt that the trust, and therefore, the trustees of the trust committed illegalities." (p281)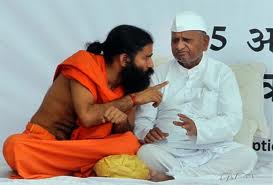 However Anna Hazare is different from the average politician in the sense that he has openly accepted his fault, apologized and looked ahead. In fact Anna's charge is much lesser in degree when compared to criminals thronging the Lok Sabha. 162 out of 543 MPs have pending criminal cases against them and many of them include crimes as heinous as murder, dacoity & kidnapping.
But Baba Ramdev presents a completely different challenge. The estimated net worth of his assets is in excess of 1100 crores and he has accumulated this wealth in less than a decade. There are also media reports that allege Baba Ramdev   bought a Scottish island for around 2 million pounds a few years ago. Hence it seems ironic that such a man is set to go on a fast against illegal money.
III. 2/5 = 40% ≠Nepotism
It was very casually assumed that Arvind Kejriwal, Shanti Bhushan, Prashant Bhushan, Santosh Hegde and Anna Hazare are the most deserving and the best suited people in the country for drafting the Jan Lokpal Bill. Never mind if they all come from the same alliance. In fact with great difficulty did the government manage to convince Anna Hazare to allow Pranab Mukherjee to co-chair the committee. Within days of the committee being announced  Mr. Baba Ramdev was extremely disappointed. For days he had brought with him to Anna's hunger strike, massive support in the form of thousands of followers. Unfortunately he found out that he had been omitted from the committee to draft the bill. This prompted him to take a dig at the Bhushan father and son duo who made  it to the committee. Baba (a highly politically motivated man) actually made a very valid point. Whenever similar situations occur in Indian politics, it is termed as nepotism. However amazingly 2 out of 5 civil society members were from the same family. Anna initially supported the Bhushans inclusion. But with increasing reports everyday linking the Bhushan's to corruption, Anna issued a statement in which he said that he is unaware of who the Bhushans are and only met them for the first time in Delhi.
IV. Political Party = NGO
The political parties in India are maligned for being non-transparent and corrupt. This is completely and absolutely true. There are 1200+ political parties in India, out of which 700 odd parties do not contest any elections. They only exist for the tax benefits and nefarious activities.
But let's take a look at civil society/NGOs. According to the most conservative government estimates, our country has more than 3.3 million NGOs. This means that there is an NGO for every 400 people in India. There are more NGOs than primary schools and primary health centres in the country.
NGOs are often viewed as sources of money making and tax evasion. In fact they are often established purely for such purposes. However just as all politicians are not corrupt and evil, neither are all NGOs fronts for illegal activities. But more importantly, just because one belongs to or supports an NGO, does not mean that the person is noble and incorruptible.
In fact civil society workers can often get away with zero accountability just by stating that they are part of a 'mass movement' thereby avoiding  any answerability. These days Baba Ramdev is randomly collecting money from people in New Delhi to fund his hunger strike. What is the source of this money & what will be done with it are questions that will remain unanswered.
1 – As per Election Commission of India. 2 – Click 
here
for full report.

Copyright secured by Digiprove